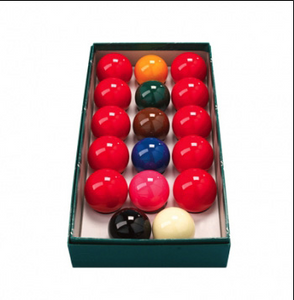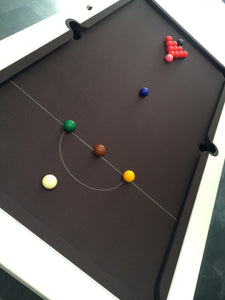 ARAMITH SNOOKER 2"  BALL SET.
WITH 1"7/8 CUE BALL & COLOURS
Perfect for 7' and 8' pool tables. 2"  Aramith Snooker set with 1"7/8 Cue ball, 10 2" Reds and six 1"7/8 Colours.
Aramith is the professionals choice of pool ball. Made in Belgium for over 50 years. Aramith Phenolic Resin balls last 5 times longer than normal polyester balls. This unique structure gives Aramith balls specific reactivity and a long lasting high gloss finish. This means minimal wear and tear on the balls and cloth.
This set are made for tables with cue ball separators so the cue ball and colours return to the Baulk end of the table. Can also be used on free play tables
Includes
     10 Aramith 2" Red balls
     6 Aramith 1"7/8 Colour ball (Yellow, Brown, Green, Blue, Pink, Black)
     1"7/8 Cues Ball (for coin operated tables)