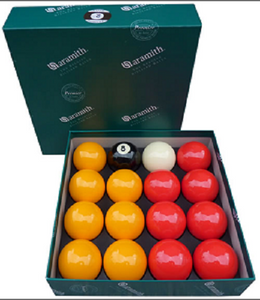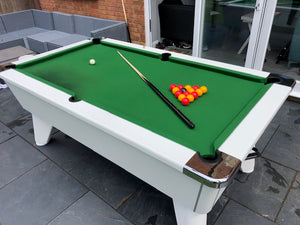 ARAMITH TOURNAMENT POOL BALL SET (RED & YELLOW).
ENGLISH 2"
As used in the Pool Leagues, pubs and clubs. 2" Tournamnet Aramith red & yellow set with 1"7/8 Cue ball and a black 8 ball.
Aramith is the professionals choice of pool ball. Made in Belgium for over 50 years. Aramith Phenolic Resin balls last 5 times longer than normal polyester balls. This unique structure gives Aramith balls specific reactivity and a long lasting high gloss finish. This means minimal wear and tear on the balls and cloth.
Includes
     Aramith 2" Red & Yellow Set of Balls
     Black 8 Ball
     1"7/8 Cues Ball (for coin operated tables)