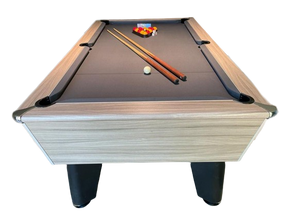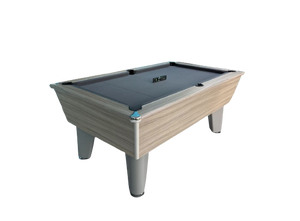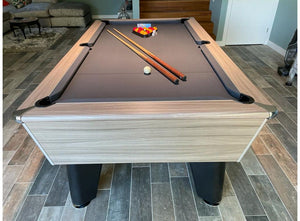 OPTIMA CLASSIC SLATE BED POOL TABLE

DRIFTWOOD FINISH
FREE PLAY
INCLUDES - ARAMITH Reds and Yellows, 2 Cues, Chalk and Triangle
FREE INSTALLATION With Delivery.
LEAD TIMES - 6-9 Weeks

The popular Optima Classic is a modern sleek slate bed pool table. Available here in a DRIFTWOOD laminate finish with avariety of cloth finishes. With tapered legs, and complimented by the chrome corner plates, this is a great addition to any home environment.
The table provides a great playing experience with a 3/4" Slate bed, tournament standard playing surface. a simple ball return system, and complete with Aramith standard reds and yellows. Offered with  napped or speed, professional pool cloth and two cues.
The table is available in two sizes
. English Pool table sizes are based on the tables outside measurements.
     6' x 3' – 1860mm x 1090mm x 825mm (205kgs)
     7' x 4' (Standard Tournament Size) - 2095mm X 1180mm X 825mm (210kgs)
You should have a minimum 4' space around the table so for a 7' table, minimum room size would be 15' x 12'. We can supply shorter cues should you have a tight space.
There are two types of cloth available with the table
Tables are supplied in standard colours of Green, Red, Burgundy and Blue. Other colours are available, but only in better quality cloths.
Two types of cloth are available, Speed and Napped. There is no 'Standard' or 'Best' option, cloth is a very personal choice. Each has benefits but both will play very well for a variety of reasons which we've described below.
The better quality cloths we use are Professional Pool Cloths from the world's two main mills. These are Hainsworth and Strachan (includes the Miliken SuperPro Brand). There are minor differences between the brands but all are of a good quality. With regular simple maintenance, including brushing and ironing (napped cloth), they can last for years in great playing condition
Speed Cloth - This is a pool cloth with a wool nylon blend offering a very flat, fast surface. It isnt just American pool that is played on Speed cloth. In the UK Speed cloth is used in a variety of bars, clubs and homes as it is low maintenance and hard wearing. You can just use the brush end of the vacuum cleaner on it, to remove the dust!
It's a great surface for teenagers just starting out in the game as the speed of the cloth ensures they quickly learn to play gentler shots to ensure potting the balls. Speed doesn't describe the cloths effect on the balls. With such a flat surface there is little friction to slow the balls down and they run further across the surface than a shot played on Napped cloth. Speed cloth is available in Factory Standard, Simonis 760 and SuperPro (from Miliken), Both SuperPro and Simonis are supplied with SpillGaurd should there be an accident. Also available is the UK Tournament cloth Strachan (was Simonis) 861 which is only offered in Electric Blue. There are a variety of colours available in the other cloths.
Napped Cloth - This is a 100% wool cloth originally made for Snooker tables. With the playing area of English pool tables being smaller there are a variety of napped cloths available specifically for English pool with a shorter nap than its snooker equivalent.
The 'Velvety' Look of the cloth is actually the one way directional nap. This allows better cue ball control due to the friction it creates. It offers the opportunity to put more 'Spin' on the cue ball. It does need a lot more maintenance than Speed cloth. It should be brushed regularly (just 30-60 seconds) and ironed occasionally which will increase the cloths life and make playing a much better experience.
 If napped is your choice we would advise purchasing a Valet kit which includes a brush and cloth cleaner spray (and standard rule set) to ensure the playing surface is kept in top condition. Napped cloth is available in Standard (777 Strachan) 6811 (Strachan) 6811 Gold (Strachan) and Smart (Hainsworth)
Accessory Package
The table is supplied with two pub style cues, a set of Aramith Red & Yellow balls, chalk and a triangle.
Aramith Balls are considered the best on the market. They have a deep luster to their colours and due to the production methods employed, will not only last for years but also cause minimal damage to the billiard cloth.
Many tables are supplied with Chinese copies which look tired and dirty very quickly. Superpool supply Aramith balls on their new tables as standard unless specifically requested.
The table is supplied with 4 pieces of chalk. Unlike some suppliers, we will ensure your chalk is the corresponding colour of your cloth choice. As silly as that may sound, if you were to use a blue chalk on a bright red cloth……it will create black streaking, which is very difficult to clean. So if you choose a Fuchsia cloth you will get pink chalk!
You will also receive a triangle and two standard cues so you can start playing immediately
Upgrades
A variety of upgrades are available including, one piece Ash cues with 10mm tips and Aramith Professional Pool Ball sets. We can also supply table covers, light canopy's, snooker balls and a variety of maintenance products for your table
Delivery AND Installation is included in our pricing to many parts of the UK as long as its ground floor easy access. We do need to know if there are any stairs or steps involved, as well as tight turns, gravel paths or grass. This doesn't always mean an extra charge, so if you aren't sure please don't hesitate to contact us.
Lead times vary between manufacturers as we only keep a small amount of stock. You do need to think of pool tables in terms of furniture and generally most tables are delivered within 8 weeks. But at different times of year this can vary wildly.
Please contact us if you have any questions or would like further information to aid your decision, we are always happy to discuss all the options.
By ticking the Standard Product boxes you will receive the basic package which includes - Table, Driftwood Finish, Choice of Standard cloths, 2 Cues, Set of Balls, Chalk and a Triangle.