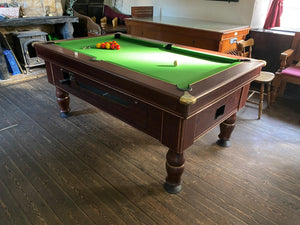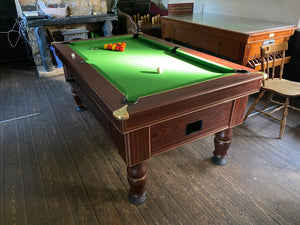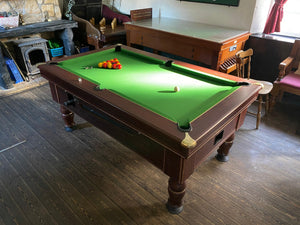 RECONDITIONED EXCEL MAYFAIR 6' x 3' FREE PLAY ONLY

SUPPLIED WITH - ALL NEW ACCESSORIES - 2 Cues, Standard Set Red & Yellows, Chalk and Triangle. 
DELIVERY - Extra Cost.

We have a 6' x 3' (outside measurements) reconditioned Excel Mayfair. This is a fully reconditioned slate bed pool table with a Mahogany Veneer exterior finish and full turned legs with levelers. The playing area has been returned to tournament standard and the table is supplied with
     Tournament Standard playing surface with 3/4" slate bed
     Your choice of Speed or Napped Professional Pool Cloth
     Your choice of cloth colour
     New Set of Superpool Standard Reds and Yellows
     2 Ramin Cues
     Chalk and Triangle
The table can be supplied as free play only
The table is in very good overall condition but the table will have the odd blemish or scuff which may be difficult to remove in the reconditioning process but should be expected of a table of its age.
Delivery and Installation is available in the Central England area. Other areas are occassionally drop off to your location only.  We use trolleys and ramps and this will overcome most normal doorsteps etc but we do need to know if there any larger steps/stairs or tight turns.. If you'd like more information please contact us to discus your options
Choose your upgrades and extra accessories in the option menu