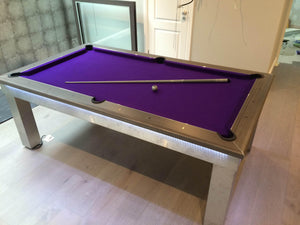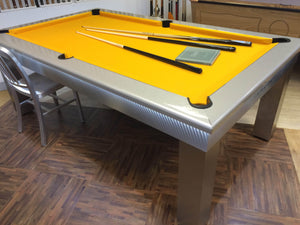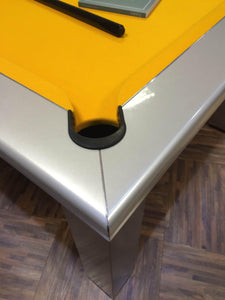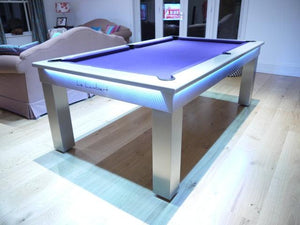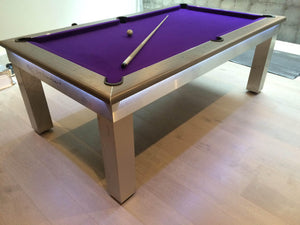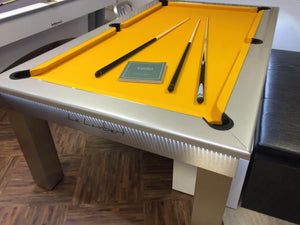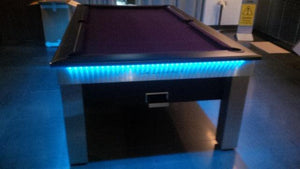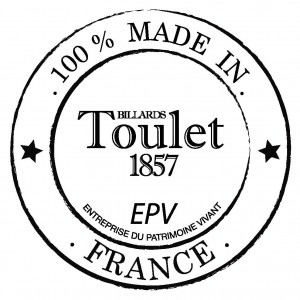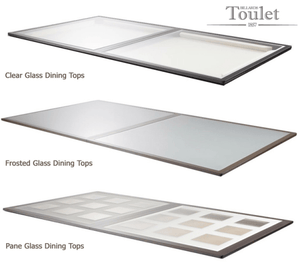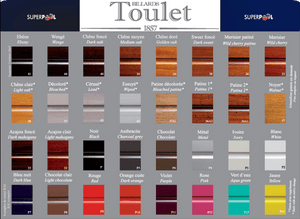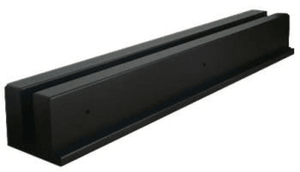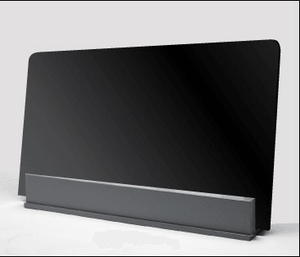 TOULET 'LE LAMBERT' POOL TABLE
The 'Le Lambert' is a modern luxury pool diner table with a variety of top frame finishes and including a brushed aluminium body and legs. There are a choice ofdining table tops to enhance the Le Lambert offering French Elegance to your dining room.
Manufactured from quality materials and offering a variety of stunning options and enhancements the Le Lambert can be supplied with furnishings to compliment your table.
A sleek exterior finish in brushed aluminium with a choice of rail (top frame) colours gives a modern style in any environment. It can also be offered with LED down lighting to highlight the exterior finish.
With a 3/4" Slate bed supported by a metal sub frame with tournament standard playing surface, quick drop pockets, and a drop down hidden ball return, the Le Lambert offers a great game play experience. Offered with napped or speed professional pool cloth and accessory package.
The table offers a great playing experience in a variety of sizes
The table is available in the following sizes.
     7' x 4'  UK English

     7' x 4' American
     8' x 4' American

You should have a minimum 4' space around the table so for a 7' UK table, minimum room size would be 15' x 12'. We can supply shorter cues should you have a tight space.
There are two types of cloth available with the table
Speed Cloth
- This is a pool cloth with a wool nylon blend offering a very flat, fast surface. American pool is played on Speed cloth. In the UK Speed cloth is used in a variety of environments as it is low maintenance and hard wearing. Its a great surface for teenagers just starting out in the game as the speed of the cloth ensures they quickly learn to play gentler shots to ensure potting the balls.  There are a variety of colours available
Napped Cloth - This is a wool cloth originally made for Snooker tables. With the playing area of English pool tables being smaller there are a variety of napped cloths available specifically for English pool with a shorter nap than its snooker equivalent. The one way directional nap allows better cue ball control. If napped is your choice we would advise purchasing a brush and cloth cleaner spray to ensure the playing surface is kept in top condition.
Accessory Package
the table is supplied with two Ash 57" one piece cues, a set of the appropriate Aramith Professional balls, chalk and a triangle. A variety of upgrades are available including, maintenance kit and Aramith Professional Pool Ball sets. We can also supply table covers, light canopy's, snooker balls and a variety of maintenance products for your table
Delivery and Installation is included in our pricing. Lead times for delivery are approximately 60 working days as all tables are built to order. Please don't hesitate to contact us to discuss your requirements as we are always happy to offer our experience to aid your decision.
By ticking the Standard Product boxes you will receive the basic package which includes - Table, Variety of Veneer Finishes, Choice of cloths, 2 Cues, Set of Balls, Chalk and a Triangle.Your choice of dining tops will increase the standard price.