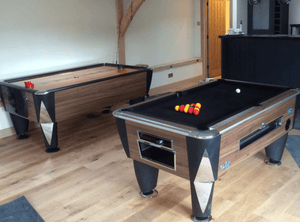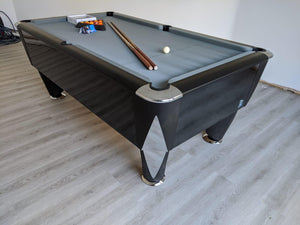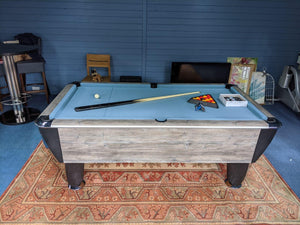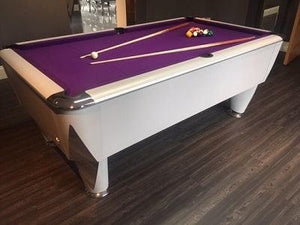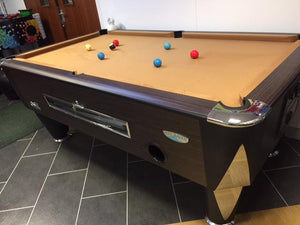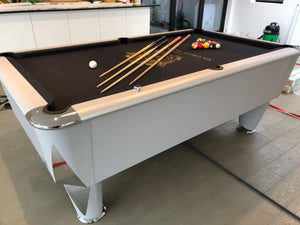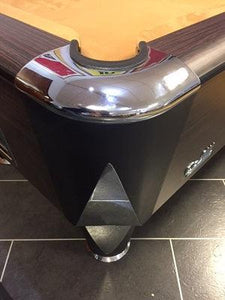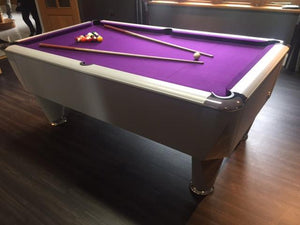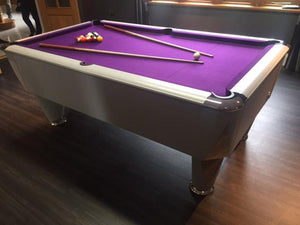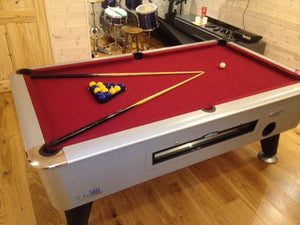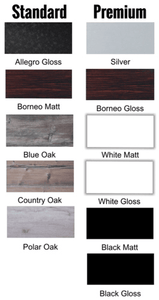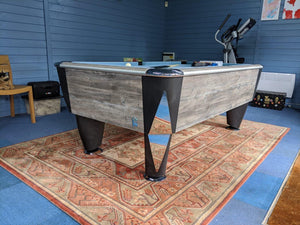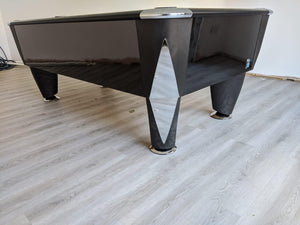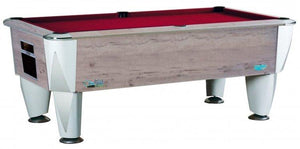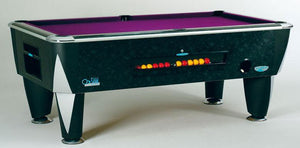 SAM ATLANTIC ENGLISH POOL TABLE
CURRENT LEAD TIME 6-10 WEEKS
The Atlantic is a Modern style free play English pool table. With mirrored legs, chrome levelers, a variety of veneer finishes and complimented by the chrome corner plates, this is a great addition to any home environment.
With a 3/4" Slate bed, tournament standard playing surface, quick drop pockets, internal levelers and constructed with Ply-Wood, the Atlantic offers a great game play experience. Offered with napped or speed professional pool cloth and accessory package.
The variety of laminates available will offer a distinctive finish to your table. Compliment it with a logo cloth? The SAM Atlantic is a real chance to customise and personalise your table.
The table is available in two sizes. English Pool table sizes are based on the tables outside measurements.
     6' x 3' – 1860mm x 1090mm x 825mm (215kgs)
     7' x 4' (Standard Tournament Size) - 2095mm X 1180mm X 825mm (230kgs)
You should have a minimum 4' space around the table so for a 7' table, minimum room size would be 15' x 12'. We can supply shorter cues should you have a tight space.
There are two types of cloth available with the table
Speed Cloth - This is a pool cloth with a wool nylon blend offering a very flat, fast surface. American pool is played on Speed cloth. In the UK Speed cloth is used in a variety of environments as it is low maintenance and hard wearing. Its a great surface for teenagers just starting out in the game as the speed of the cloth ensures they quickly learn to play gentler shots to ensure potting the balls. Speed cloth is available in Standard, ElitePro (from Hainsworth) and SuperPro (from Miliken) with SpillGaurd for those accidents! There are a variety of colours available
Napped Cloth - This is a 100% wool cloth originally made for Snooker tables. With the playing area of English pool tables being smaller there are a variety of napped cloths available specifically for English pool with a shorter nap than its snooker equivalent. The one way directional nap allows better cue ball control. If napped is your choice we would advise purchasing a brush and cloth cleaner spray to ensure the playing surface is kept in top condition. Napped cloth is available in Standard (777 West Of England) 6811 (West Of England, Players Choice) 6811 Gold (West of England) and Smart (Hainsworth)
Accessory Package
the table is supplied with two pub style cues, a set of Aramith Red & Yellow balls, chalk and a triangle. A variety of upgrades are available including, one piece Ash cues with 10mm tips and Aramith Professional Pool Ball sets. We can also supply table covers, light canopy's, snooker balls and a variety of maintenance products for your table
There are a variety of delivery options available dependent on your location. Lead times for delivery are approximately  working days as all tables are built to order. Please don't hesitate to contact us to discuss your requirements. Click on 'Contact Us' at the bottom of the page under Customer Services as we are always happy to offer our experience to aid your decision.
By ticking the Standard Product boxes you will receive the basic package which includes - Table, Variety of Veneer Finishes, Choice of cloths, 2 Cues, Set of Balls, Chalk and a Triangle.