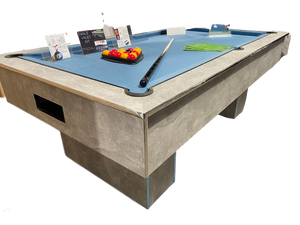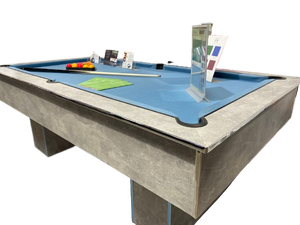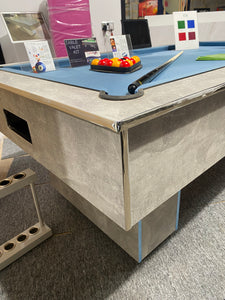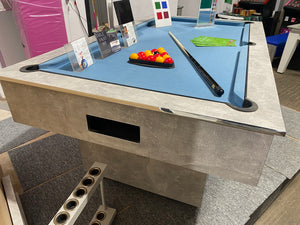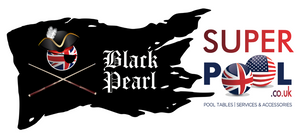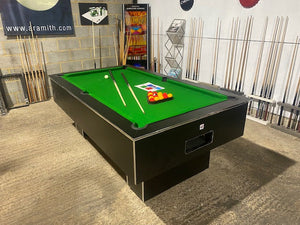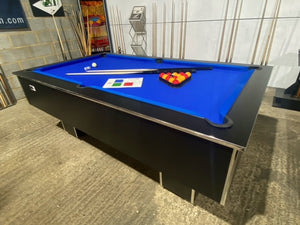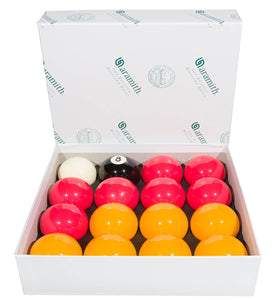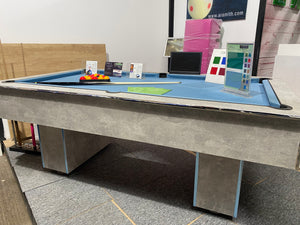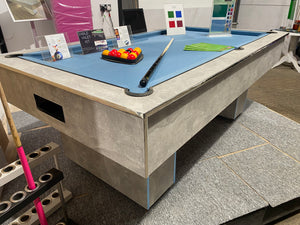 SUPERPOOL ITALIAN PEARL POOL TABLE
Made By Superpool
Italian Grey Marble Laminate Finish with Match Play accessories

FREE PLAY
LEAD TIMES - 6-10 weeks

The Italian Pearl by Superpool is our entry level fully loaded slate bed pool table and match kit.
The Itaian Pearl is supplied with a 3/4" slate bed and performs to Match play standards.
Featuring Aramith Reds and Yellow, league quality pool balls, two cues, chalk and a triangle. Everything you need, to have a great nights fun on your very own pool table
The Italian Pearl comes in a Satin Black finish with chrome trims in a classic Bench Leg English pool table design. Available with a variety of cloth colour choices in either a snooker style napped cloth, or fast pool cloth. The table includes a ball return to the triangle end.
The table is available in two sizes. English Pool table sizes are based on the tables outside measurements.
     6' x 3' – 1860mm x 1090mm x 800mm (205kgs)
     7' x 4' (Standard Tournament Size) - 2095mm X 1180mm X 800mm (210kgs)
You should have a minimum 4' space around the table so for a 7' table, minimum room size would be 15' x 12'. We can supply shorter cues should you have a tight space.
CLOTH
There are two types of cloth avavlable, Speed and Napped. Its a personal choice as there is no r"Right" or "Wrong" with cloth. Its all about what suits you or your lifestyle!
Napped cloth has a one way directional nap. Running your hand from the break end down the table it will be soft and smooth. Running back up, you'll feel prickles. This is the nap.
The nap creates friction on the balls so they wont roll as far as on a speed cloth which is frictionless. The nap will also allow for more side spin on the cue call.
Speed cloth is very flat and has no friction. The balls will travel further on the table with only their own momentum to slow them down. So its not actually quicker than napped cloth!
Napped cloth will need to be brushed and occassionally ironed. It doesnt take long but you MUST do it. Otherwise dirt and grit will get into the nap, it wont look good and as it builds up will deviate the ball trajectory.
Speed cloth should be brushed as well but can be hoovered and it doesnt have to be done so often. Its hard wearing as well should kids be involved!
There are a variety of standards in each type. Some with a variety of colours, and some with SpillGaurd (like ScotchGaurd).
 The table is manufactured in the UK by Superpool.